Power workholding - Compact clamp B 1.827
Compact swing clamp with pneumatic clamping monitoring

cartridge type, double acting,
max. operating pressure 250 bar
The compact clamp particularly excels by its minimum dimensions.
Two different cartridge types, each in four sizes, offer a high flexibility for the design of clamping fixtures.

New pressure switch F9.732
Pressure switch

hydro-electric signal converter
pressure range 5-130 bar, 50-350 bar and 50-550 bar
The pressure switches as per data sheet F9.731 have been replaced by the new pressure switches as per data sheet F9.732.
» Data sheet F9.732

New product - Work support B 1.9503
Top flange rype - with metallic wiper edge

3 sizes, 3 types of function, single acting, max. operating pressure 500 bar
The top flange type allows for space-saving and direct installation into the fixture body. Oil supply is made through drilled channels or pipe thread.

New: Hinge clamp for low operating pressure
Hinge clamps 70 bar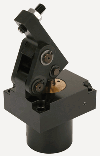 with metallic wiper edge
and optional position monitoring
double acting
max. operating pressure 70 bar
These hinge clamps are designed for the direct connection to the machine hydraulics with a max. operating pressure of 70 bar.
Three sizes are available:
Hinge clamps with a maximum operating force of 3.3 or 7.0 kN and a mini hinge clamp with max. 2.2 kN.

Power workholding - New product: Extension of diameters
Bore clamp – eccentric version

now for bore hole diameter 9.3 – 12.3 mm,
3 different clamping inserts
Due to the small dimensions at the effective point and the compact design direct clamping in recesses e.g. of cast parts is possible.
Also workpieces with raised parts right next to the bore to be clamped are suitable.